Exclusively at Mike's Falconry!
Dog Trainers, Bird Hunters and Falconers will love or new Specialty vest!


We've made some new changes to our dog training & bird hunters vest for 2015. This vest is hand made in the USA and we have added many new features to this vest to make it the best on the market today. We have worked on this design for over four years now and we think that you will be very pleased with the design and overall quality. Our vest is made from TRUE 100% , 1000 denier blood and water proof Cordura nylon fabric and this vest will last many years if not a life time. This vest was tested by members of the California Springer club and meet with their excellent approval.
If you use live birds as part of your dog or Falcon training program, this new specialty vest is just for you.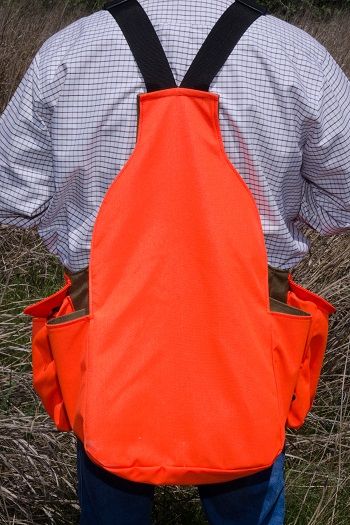 This vest has two large front pockets on each side. The outer pocket allows you plenty of room for dog leash,
water bottles, shot gun shells etc. The inner front pockets comes with a nylon zipper installed into the top
of the pockets for carrying up to 2 pigeons or 2 -3 quail in each zippered and ventilated pocket.


These back zippered pockets will allow you to open the pocket flaps on each side to get into the front pocket
and your live birds will not be able to get out. These large pockets have a nice cover flap with a strong locking
snap that can be opened or closed with your thumb and index finger. The large front chest sections on either
side of the vest seals with Velcro and is ventilated with grommets and will easily hold a Pigeon or pheasant on
each side. These bird planting pouches of the vest DO NOT open to the rear game bag. The rear game pouch has been
made much large now with lower edge's to make it easier to put game in and can easily hold two or more pheasants.
All shoulder and waist belt straps are fully adjustable, a cooler vest in the summer that will also adjust to fit over
a coat for winter use. There is also a nice size zipper pouch inside the vest to keep your wallet and keys safe.

We are so sure that you will love your new Specialty vest that we offer a full one year warranty
on material and workmanship.

SIZING CHART:
Our training vest are made with a little more room around the waist and chest, but when ordering you should
be able to buy the same size you normally wear and have a good fitting vest and still have room to add birds
on both sides of this vest.

DTV1 – Small size man or woman chest size 34-36. 100 up to 160lbs.
DTV2 –Medium size man or woman chest size 38-40. 160 up to 180lb.
DTV3 – Large size man or woman chest size 42-44. 180 up 210lbs.
DTV4 – X-Large size man or woman chest size 46-48. 210 up to 250lbs
DTV5 – XX- large size man or woman chest size 50-52. 250lbs and up
DTV Specialty training & Hunting vest. $129.95.

Visit our website to order!
Exclusively at Mike's Falconry!